El diseño computacional
Un estudio de casos
Palabras clave:
Diseño computacional, diseño paramétrico, diseño algorítmico, diseño generativo, nuevas tecnologías, diseño digital
Resumen
A lo largo de la historia, el hombre ha buscado perfeccionar los sistemas para crear y representar el espacio de un modo cada vez más fidedigno. Pero no fue hasta la invención de los ordenadores, y el desarrollo de los sistemas digitales, cuando se produjo verdaderamente un giro copernicano dentro del diseño, una revolución que vino a reemplazar los procesos de diseño tradicionales, basados en el dibujo manual. En menos de treinta años, una nueva generación de procedimientos digitales, pasaron de representar el espacio (diseño digital), a ser utilizados como una herramienta potenciadora de las capacidades proyectuales de los diseñadores (diseño computacional).
A partir de estos supuestos, este trabajo tiene como objetivo, el análisis y la clasificación de tres proyectos emblemáticos de finales del siglo XX, tres proyectos que, aunque no construidos marcaron un hito en la historia de la arquitectura reciente.
Para su análisis, tomaremos como referencia la taxonomía elaborada por Inês Caetano, Luís Santos y António Leitão, en su artículo Computational design in architecture: Defining parametric, generative, and algorithmic design (2020). En dicho artículo, los autores identifican que la bibliografía científica contemporánea relacionada con el diseño computacional, se encuentra asociada a tres términos: el diseño paramétrico, el diseño algorítmico y el diseño generativo. Razón por la cual, utilizaremos estos términos como ejes centrales para nuestra clasificación y análisis.
Descargas
Los datos de descargas todavía no están disponibles.
Citas
Armour, G, Buffa, E. (1963). A Heuristic Algorithm and Simulation Approach to Relative Location of Facilities. Science 9 (2). January, 294-309.
Bernal, M.; Haymaker, J.; Eastman, C. (2015). On the role of computational support for designers in action. Design Studies. Volume 41, Part B, November 163-182.
Caetano, I.; Santos, L.; & Leitão, A. (2020). Computational design in architecture: Defining parametric, generative, and algorithmic design. Frontiers of Architectural Research, 9(2), January, 287-300.
Chaszar, A., & Joyce, S. C. (2016). Generating freedom: Questions of flexibility in digital design and architectural computation. International Journal of Architectural Computing, 14(2), 167–181.
Cosme Muñoz, A. (2008). El proyecto de arquitectura: concepto, proceso y representación. Estudios universitarios de arquitectura. Barcelona: Editorial Reverté.
Cruz, D. (2013). Tecnologías aplicadas. Santiago de Chile: Escuela de Artes Visuales Universidad.
Eggert, R. (2004). Engineering design. Pearson/Prentice Hall.
Eisenman, P. (1987). Biocenter. Eisenman Architects. https://eisenmanarchitects.com/Biocenter-1987
Elghandour, A.; Saleh, A.; Aboeineen, O.; Elmokadem, A. (2014). Using Parametric Design to Optimize Building's Façade Skin to Improve Indoor Daylighting Performance. 353-361
Frazer, J.; Frazer, J.; Xiyu, L.; Mingxi, T.; Janssen, P. (2002). Generative and evolutionary techniques for building envelope design. Proceedings of the 5th International Conference on Generative Art. Milan, Italy, 1-16.
Iwamoto, Lisa. (2009). Digital Fabrications. Architectural and material techniques. New York: Princenton Architectural Press.
Jabi, W. (2013). Parametric design for architecture. Hachette UK.
Jencks, C. (2004). El nuevo paradigma en la arquitectura contemporánea. Valencia: Ediciones Generales de la Construcción.
Kalay, Y. (1989). Modeling Objects and Environments Principles of Computer Aided Design. New York: Wiley.
Krause, J. (2003). Reflections: the creative process of generative design in architecture. Proceedings of the 6th International Conference on Generative Art.
Kolarevic, B. (2003). Architecture in the Digital Age: Design and Manufacturing. New York: Branko Kolarevic edic.
Lynn, G. (2013). Archaeology of the Digital. Montreal: Canadian Centre for Architecture.
Moneo, R. (2004). Inquietud teórica y estrategia proyectual en la obra de ocho arquitectos contemporáneos. Barcelona: Actar.
Montagu, A.; Mariño, M.; Igarzabal De Nistal, M. (1993). El aporte de la informática en la arquitectura, el diseño y el urbanismo. Buenos Aires: Dir. Investigación, Sec. De Inv. y Post. FADU. UBA.
Novak, M. (1991). Liquid Architecture in Cyberspace. Cyberspace: First Steps. Benedikt, Michael. Cambridge, MA: The MIT Press.
Oxman, N. (2013). Water-base Digital Fabrication Platform" [online]. Projects. Massachusetts. EE. UU: Massachusetts Institute of Technology.
Pimentel, D. (2004). Superconectados. Cultura Digital: comunicación y sociedad. Arturo Montagu. Buenos Aires: Paidos.
Serraino, P. (2002). History of Form *Z. Basel: Birkhäuser.
Szalapaj, P. (2001). CAD principles for architectural design. Routledge.
Terzidis, K. (2003). Expressive form: A conceptual approach to computational design. Routledge.
Van der Zee, A., & De Vries, B. (2008, December). Design by computation. In GENERATIVE ART CONFERENCE (11, 35-37).
Yessios, C. (1987). A Fractal Studio. Integrating Computers into the Architectural Curriculum. ACADIA Conference Proceedings. North Carolina: Raleigh, 169-182.
Zarei, Y. (2012). The challenges of parametric design in architecture today: Mapping the design practice (Doctoral dissertation, The University of Manchester (United Kingdom)).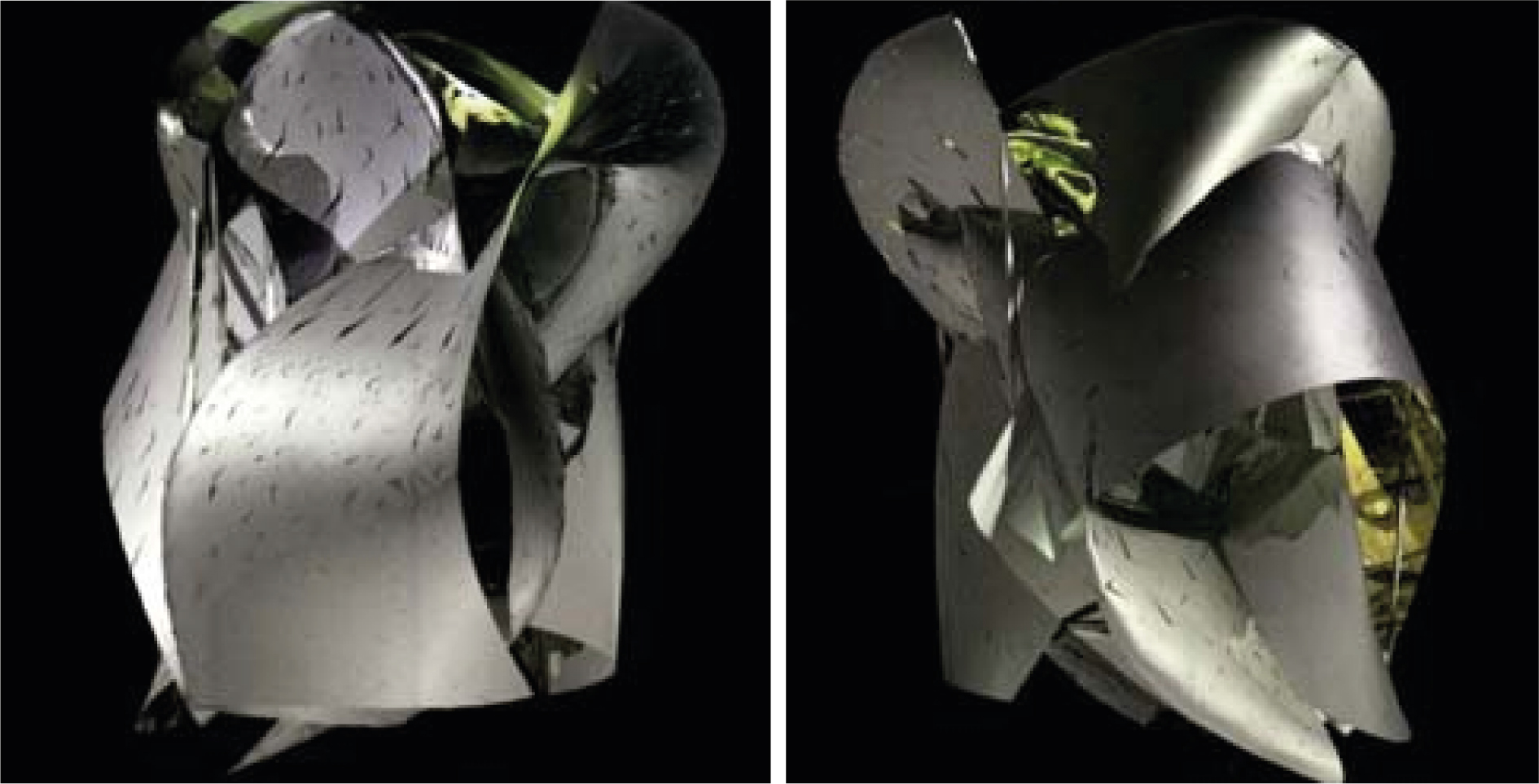 ##submission.downloads##
Cómo citar
Fraile Narvaez, M. (2022). El diseño computacional: Un estudio de casos. Anales De Investigación En Arquitectura, 12(1). https://doi.org/10.18861/ania.2022.12.1.3216
Sección
Artículos originales
Licencia
Derechos de autor 2021 Marcelo Fraile Narvaez
Esta obra está bajo una licencia internacional Creative Commons Atribución 4.0.
El contenido de los artículos publicados es responsabilidad exclusiva de sus autores y no reflejan necesariamente las opiniones del Comité Editorial, ni de los evaluadores.
La revista Anales de Investigación en Arquitectura preserva los derechos de los autores, que son adoptados por Comité Editorial para su publicación. Los autores declaran que el trabajo presentado es inédito y no ha sido publicado en una revista científica o en una monografía.
La revista Anales de Investigación en Arquitectura proporciona un acceso abierto a sus contenidos, basados en el principio de la licencia internacional Creative Commons Reconocimiento 4.0 International License, que ofrece al público un acceso libre a las investigaciones para ayudar a un mayor intercambio global del conocimiento.