De la presencialidad a la distancia: modelos para la incorporación del e-learning en la universidad
Resumen
Este artículo discute un marco de referencia para la conceptualización y evaluación de modelos de e-learning en educación superior. Las modalidades "presencial" y "a distancia" han sido concebidas históricamente como los modelos educativos por excelencia conceptualizados como mutuamente contrapuestos. Sin embargo, las tecnologías de e-learning, posibilitan nuevos modelos educativos que combinan la presencialidad y la distancia de distintas maneras. Sobre la base de la experiencia de la Universidad ORT Uruguay, planteamos un continuo a lo largo del cual aparecen modelos educativos en los que el e-learning y el aula presencial se complementan para lograr distintos objetivos. Las dimensiones pedagógicas, tecnológicas y económicas de estos modelos son abordadas en este artículo.
Descargas
Los datos de descargas todavía no están disponibles.
Citas
Adkins, S. 2002. Market Analysis of the 2002. U.S. E-Learning Industry Convergence, Consolidation and commoditization, Brandon-hall.com 2002 Market Analysis Series.
Armellini, A. & Gregori, M. 2001. Criterios para la incorporación efectiva de Internet como apoyo a cursos presenciales. Informe de investigación. Montevideo: Universidad ORT Uruguay.
Bates, A. 1995. Technology, open learning and distance education. Londres: Routledge.
Bissell, C. 2002. Supporting student projects at a distance through ICT: the UK Open University approach. European Journal of Engineering Education, 27(1), 5-12.
Bonk, C. and Dennen, V. 1999. Teaching on the web: With a little help from my friends. Journal of Computing in Higher Education, 11(1), 3-28.
Carnevale, D. 2002. Online students don't fare as well as classroom counterparts, study finds. Chronicle of Higher Education, 48(27).
Cronin, B. 2002. Locus Classicus. Library Journal, 127(11), p 44.
Davies, T. & Quick, D. 2001. Reducing distance through distance learning: the community college leadership doctoral program at Colorado State University. Community College Journal of Research & Practice, 25(8), 607-620.
Grünberg, J. (2001) Using the Internet in the delivery of educational services. Concepts and practical implementation. Trabajo presentado en el Foro de Directores de World ORT, Oxford, Marzo de 2001.
Instructional Technology Resource Center 2001. (online), Idaho State University. www.isu.edu/itrc, accedido el 01/08/2002.
Klopfenstein, B. 1997. (online) Diffusion of innovations on the web. www.bgsu.edu/departments/tcom/diffusion.html, accedido el 10/08/2002.
Palloff, R. & Pratt, K. 2001 Lessons from the cyberspace classroom. Chichester: John Wiley and Sons Ltd.
Rogers, E. 1995. Diffusion of innovations (4ta edición). Nueva York: The Free Press.
Rosenberg, M. 2001. E-Learning. Nueva York: McGraw-Hill.
Salmon, G. 2000 E-Moderating: The key to teaching and learning online. Oxford: OUP.
Smith, G.; Ferguson, D. & Caris, M. 2001 Online vs face-to-face. T H E Journal, 28(9), 18-24.
Weigel, V. 2000 E-Learning and the tradeoff between richness and reach in higher education. Change, 33(5), 10-15.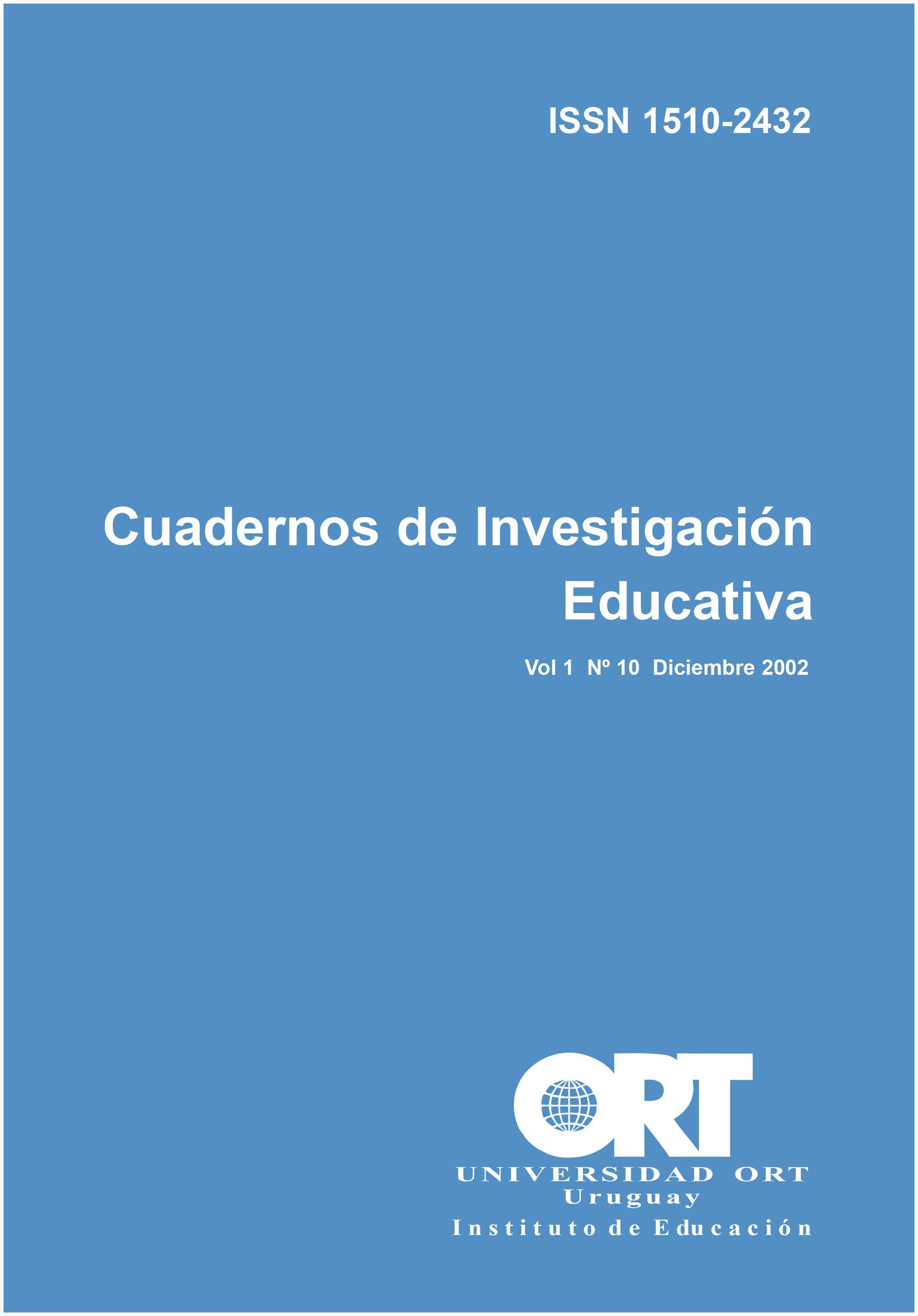 ##submission.downloads##
Cómo citar
Grünberg, J., & Armellini, A. (2018). De la presencialidad a la distancia: modelos para la incorporación del e-learning en la universidad. Cuadernos De Investigación Educativa, 1(10), 9 - 14. https://doi.org/10.18861/cied.2002.1.10.2762
Sección
Temas de investigación