La proyección online del yo entre individuación y colectivización
Palabras clave:
autorepresentación, cultura digital, identidad, semiótica, Instagram
Resumen
Las prácticas vinculadas con la proyección de la identidad personal que se llevan a cabo en medios digitales pueden y deben ser concebidas como prácticas de comunicación y, más ampliamente, de significación. Desde un enfoque semiótico, tales prácticas pueden ser concebidas como estrategias de enunciación del yo en las que los individuos, a través de actos creativos que implican la manipulación del plano de la expresión, consciente o inconscientemente gestionan la imagen que proyectan ante el mundo externo con ciertos fines estratégicos, para producir un determinado efecto de sentido en cómo los demás los concebirán. El objetivo de este artículo es presentar una reflexión que ayude a concebir las prácticas de proyección del yo online como el resultado del empleo de una serie de recursos semióticos, apoyadas en una dinámica que oscila permanentemente entre dos polos: la individuación y la colectivización. Como en todo proceso de construcción identitaria, la proyección online de la identidad personal refleja esta necesidad de la dimensión colectiva para afirmar lo que es individual y único. La propuesta teórica se ilustra a partir de la presentación de ejemplos de creación de perfiles personales individuales en Instagram.
Descargas
Los datos de descargas todavía no están disponibles.
Citas
Anderson, B. (1983). Imagined communities. London: Verso.
Arfuch, L. (ed.) (2005). Identidades, sujetos, subjetividades. Buenos Aires: Prometeo.
Berger, P. & Luckmann, T. (1966). The Social Construction of Reality. London: Penguin.
Bucholtz, M. & Hall, K. (2005). Identity and interaction: a sociocultural approach. Discourse Studies, 7(4-5), 585-614.
Bullingham, L. & Vasconcelos, A. (2013). The presentation of self in the online world: Goffman and the study of online identities. Journal of Information Science, 39(1), 101-112.
Burke, P. J. & Stets, J. E. (2009). Identity Theory. Oxford: Oxford University Press.
Coupland, N. (2007). Style. Language Variation and Identity. Cambridge: Cambridge University Press.
De Certeau, M. (1978) L'invention du quotidien, 1: Arts de faire. París: Gallimard.
Danesi, M. (2016). The Semiotics of Emoji. London: Bloomsbury.
Deeb-Swihart, J. et al. (2017). Selfie-Presentation in Everyday Life: A Large-scale Characterization of Selfie Contexts on Instagram. Association for the Advancement of Artificial Intelligence. Recuperado de: https://www.cc.gatech.edu/~irfan/p/2017-Deeb-Swihart-SELLCSCI.pdf Consultado: 21/03/2019
Dondero, M. G. (2017). Du texte à la pratique: Pour une sémiotique expérimentale. Semiotica 2017. Recuperado de : https://doi.org/10.1515/sem-2017-0081 Consultado: 21/03/2019
Eco, U. (1975). Tratado de semiótica general. Barcelona: Lumen.
Floch, J. M. (1986). Les formes de l'empreinte. París: Pierre Fanlac.
Floch, J. M. (1990). Sémiotique, marketing et communication. París: Presses Universitaires de France.
Floch, J. M. (1995). Identités visuelles. París: Presses Universitaires de France.
Fontanille, J. (2016). Análisis del curso de acción de las prácticas. Contratexto, 25, 127-152.
Fontanille, J. (2015). Formes de vie. Lieja: Presses Universitaires de Liège.
Fontanille, J. (2013). Medios, regímenes de creencia y formas de vida. Contratexto, 21, 65-82.
Fontanille, J. (2008). Pratiques sémiotiques. París: Presses Universitaires de France.
Fornäs, J. (2017). Defending culture. Conceptual foundations and contemporary debate. London: Palgrave/Macmillan.
García Canclini, N. (1999). La globalización imaginada. Buenos Aires: Paidós.
Geertz, C. (1973). The Interpretation of Cultures. New York: Basic Books.
Goffman, E. (1959). La presentación de la persona en la vida cotidiana.
Buenos Aires: Amorrortu.
Gómez García, P. (2012). Las ilusiones de la identidad. Madrid: Cátedra.
Hess, A. (2015). The selfie assemblage. International Journal of Communication, 9, 1629-1646.
Hofstede, G. et al. (2010). Cultures and Organizations. New York: McGraw-Hill.
Hogan, B. (2010). The Presentation of Self in the Age of Social Media: Distinguishing Performances and Exhibitions Online. Bulletin of Science, Technology & Society, 30(6), 377-386.
Jaspers, J. (2006). Stylizing Standard Dutch by Moroccan boys in Antwerp. Linguistics and Education, 17, 131-156.
Lejeune, P. (1996). Le pacte autobiographique. París: du Seuil.
Lorusso, A. M. (2010). Semiotica della cultura. Roma-Bari: Laterza.
Maalouf, A. (1998). Les identités meurtrières. París: Grasset.
Marrone, G. (2018). Prima lezione di semiotica. Bari-Roma: Laterza.
Paccagnella, L. & Vellar, A. (2016). Vivere online. Identità, relazioni, conoscenza. Bolonia: Il Mulino.
Papacharissi, Z. (2002). The presentation of self in virtual life: Characteristics of personal home pages. Journalism & Mass Communication Quarterly, 79(3), 643-660.
Rettberg, J. W. (2014). Seeing Ourselves Through Technology: How We Use Selfies, Blogs and Wearable Devices to See and Shape Ourselves. Basingstoke: Palgrave/Macmillan.
Schulman, D. (2016). The Presentation of the Self in Contemporary Social Life. London: Sage.
Searle, J. (1995). The Construction of Social Realtity. London: Penguin.
Sibilia, P. (2008). La intimidad como espectáculo. Buenos Aires: Fondo de Cultura Económica.
Thumim, N. (2012). Self-Representation and Digital Culture. London: Palgrave/Macmillan.
Turkle, S. (2011). Alone Together. New York: Basic Books.
Vigild Poulsen, S. et al. (2018). Special issue: Social media as semiotic technology. Social Semiotics, 28(5), 593-600.
Williams, R. (1976). Keywords. A Vocabulary of Culture and Society. New York: Oxford University Press.
Zhao, S. et al. (2008). Identity construction on Facebook: Digital empowerment in anchored relationships. Computers in Human Behavior, 24(5), 1816-1836.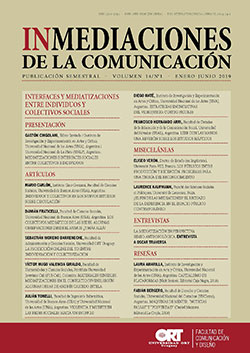 Cómo citar
Moreno Barreneche, S. (2019). La proyección online del yo entre individuación y colectivización. InMediaciones De La Comunicación, 14(1), 65-84. https://doi.org/10.18861/ic.2019.14.1.2886